The following is an unofficial English translation of a Japanese article about the history of light novels by a group called the Light Novel Research Institute. It is presented here for educational and research purposes only. The original Japanese text can be found here. This is an edited machine translation, so some titles or names may be incorrect.
Translator's Notes: It seems like this attempt to create a chronology was largely abandoned by this point, which is why this document ends in 2015. Also, the writing style shifts to facts mixed with personal comments by the writers in this document with a number of "I" statements, unlike the previous entries. There are a number of opinions here which I'm translating from the original and leaving intact, but I want to note that these are the original writer's comments, not my own in any way. You'll understand why I want to make that clear when you read some of the comments.
Table of Contents:
Year 2010
Trends in the light novel world
"Ore to Kanojo ga Maou to Yusha de Shugakukai" (She and I are the Demon King, the Hero, and the Student Council President), published by Dengeki Bunko as a finalist for the 16th Dengeki Shosetsu Taisho (Dengeki Novel Award), it went out of print and was recalled for plagiarizing several pages of text from volume 2 of "Baka and Test Summoning" (Famitsu Bunko).
The reason behind this is thought to be the change in copyright awareness due to the spread of the Internet and the increase in the number of publications due to the boom in the number of novels, making it impossible for the reviewers to check whether or not a work is plagiarized.
Representative works
In December 2009, Mamare Ogano's "Maoyuu Maou Yuusha" [Archenemy and Hero] was published by Enterbrain. Originally, it was an improvised novel that originated from a thread on the giant bulletin board 2channel in September 2009: "The Demon King: 'Be mine, hero! The main character is a demon king with big breasts, and he is a hero. The main character was the demon king, a mild-mannered girl with big breasts. The story was not only adapted into a light novel, but also into an anime, manga, drama CD, and other media mixes.
It can be said to be the spark that ignited the demon king hero story.
After this work, "Hataraku Maou-sama!" [The Devil is a Part-Timer] (published in February 2011), "I couldn't become a hero, so I reluctantly decided to get a job," (published in January 2012), and "The Demon King, the Princess, and the Book of Wisdom" (published in December 2013), the number of Maou Yusha stories exploded.
According to the book "How Bestselling Light Novels Work" published in 2012, Maou Yusha stories were not selling well, but even in 2013, the number of Maou Yusha stories continued to increase.
In 1990, a gag parody of the Dragon Quest series, "4 Koma Manga Gekijo," was published, which is considered to be a precursor of "Maou Yusha Monogatari. The first issue of the label was published in 1990.
Launch of a label
Takarajimasha launched "This Light Novel is Amazing! Bunko."
PHP Institute launches "Smash Bunko".
Their catch phrase is a sister relationship with the "Miracle Novel of Love and Friendship (Shot)"
It was very surprising to see PHP Institute, a sister company of Matsushita Institute of Government and Management and a publisher of business and self-help books, enter the world of novels.
Visual Arts Inc. launched the "Kinetic Novel Award".
The prize-winning work will be turned into a kinetic novel (novel game), and a novel version will be published by GA Bunko or Ichijinsha Bunko.
Newcomer's Award
In October, Kodansha begins accepting applications for the "Kodansha Light Novel-Bunko Newcomer Award" for the new label to be launched the following year.
Newcomer's Award
Fujimi Shobo's annual award for newcomers to the world of romance, the Fantasia Award, added a new section for romance literature in the latter half of its 24th year, accepting submissions of works that fall somewhere between light novels and general literature, and that attracted a wide range of readers in their teens and twenties.
Like the "Media Works Bunko Award" of the Dengeki Novel Award, which was newly established in 2009, this award is an attempt to expand the target audience of light novels from middle and high school students to young people in their twenties. To quote from the official website, "We are looking for novels that have strong characters, are engrossing, and make you feel as if you have experienced a little bit of the world."
In addition to the declining birthrate, the establishment of the Light Novel-Literature Division is thought to be related to the fact that the recent emphasis on moe in light novels and stupidly long titles are being shunned by some people in their 20s and older.
Tokyo Metropolitan Government's "Non-existent Youth" Regulations
The Tokyo Metropolitan Government enacts an ordinance regulating the sexual depiction of two-dimensional characters that appear to be under the age of 18.
Because of the high concentration of publishing companies in Tokyo, this caused a huge uproar in the otaku content industry, as it would have the same effect as a new law.
However, it excludes live-action films and novels, and light novels are excluded from the restrictions for now.
The reason for this is that general literary novels have a history of artistic works with immoral content, such as the 2005 Akutagawa Prize-winning work "Grand Finale," which features a pedophile as its protagonist. The emergence of light novelists as writers of general literary works, especially Naoki Prize-winning authors, suggests that the prejudice of the non-otaku population against novels was lower than that against manga and anime.
2011: The birth of a hit work from an online novel
Trends in the world of novels
Media Factory, publisher of MF Bunko J, was acquired by the Kadokawa Group.
With the acquisition of Media Factory, which publishes MF Bunko J, the Kadokawa Group took over all major labels such as Dengeki, Sneaker, Fujimi Fantasia, MF Bunko J, and Famitsu, and Kadokawa now has more than 80% of the light novel market share.
The number of works with long, colloquial titles increased.
Probably due to the success of "My sister can't be this cute" (2008/8) and "If a high school baseball girl manager reads Drucker's" Management" (2009/12), it is thought that long titles are considered to be a hit from a marketing standpoint.
"The Chairman Everyone Fears is Becoming My Personal Maid" (2011/11), "I did X for my childhood friend who pressured me to marry her" (2011/8), "When she gets flagged, I'm going to marry her after this transfer" (2011/12), etc.
According to the book, "How Bestselling Light Novels Work" ( published in April 2012), works with long titles were created as a result of the pursuit of "fun" and "good story". In other words, at a glance, the title conveys that the work is "fun", and it has the advantage of getting word of mouth on the Internet and among friends in real life.
Launch of a label
Kodansha launched "Ranobe [Light Novel] Bunko" on December 2, 2012, and is accepting submissions for a newcomer award for full-length novels targeting males in their mid-teens to early twenties. This is an attempt to broaden the target audience of light novels to include people in their twenties.
It is thought that this is in response to the declining economic power of teenage boys and girls, who have long been the bearers of otaku culture.
On November 10, Ringo Promotion launched Feather Library.
It intended to publish a collection of works published on the major novel submission site "Shosetsuka ni Narou" in book form. However, the company encountered some troubles at the start, such as the cancellation of the second and subsequent volumes of "The Magician Who Cannot Use Attack Magic" due to various reasons.
Representative works
"The Irregular at Magic High School" by Tsutomu Sashima was published by Dengeki Bunko. It is a hit work with a circulation of over 4.53 million copies.
It was originally an online novel serialized on the website "Shosetsuka ni Narou" from 2008, and was the most popular work on the site. There were few examples of light novel authors making their debut by turning an online novel into a book, so this work attracted a lot of attention.
The characterization of a heretical older brother and an honor student younger sister who has more romantic feelings for him than one would for their immediate family was outstanding. 
In February, Soji Wagahara's "Hataraku Maou-sama!" [The Devil is a Part-Timer] by Soji Wagayahara was published by Dengeki Bunko. The work won the Silver Prize at the 17th Dengeki Novel Awards.
Satan, the demon king who came close to conquering the world, was defeated by a hero and fled to modern Japan, but lost his source of magic power and became a human. It was a hit. The book was a hit, selling over 1.35 million copies.
The story is a gag comedy with a touch of humanity, in which a brave girl, Emilia, who has been chasing the Demon Lord, and a warrior girl, cooperate with each other to live in Japan in a difficult world. The demon king is such a good person that it's hard to believe he was planning to take over the world, which makes me smile.
In November, "Lord Marksman and Vanadis" by Takeshi Kawaguchi was published by MF Bunko J. It is a hit work with a total circulation of over one million copies.
It is an ensemble dramatic war story set in a fantasy world where dragons and demons exist, mixed with moe and sexy scenes unique to novels. The protagonist is popular with almost all of the seven warrior princesses who are the owners and lords of weapons with special powers called "dragon tools. I was very surprised when the protagonist, who belonged to an army that was badly defeated in a war, became a prisoner of war princess Eleonora and was told that "you are mine." The idea of interpreting the position of prisoner of war to mean that you become the property of a beautiful girl is excellent.
Not only that, but it is an extremely royal heroic tale in which the protagonist, who is placed at an overwhelming disadvantage, gains Eleonora's cooperation, saves the princess, and becomes a hero by ending the civil war of the nation. In addition, the story has a solid tactical structure, such as defeating 20,000 foreign troops who intervened in the civil war with only 2,000 men by using their wits.
It is one of the works that played a role in the revival of otherworldly fantasy, which had been in decline for a while.
Shiratori Shiro's "No-Rin" was published by GA Library.
It is a school love comedy set in an agricultural high school. The author was a novice at agriculture, but he gained knowledge by interviewing agricultural high schools and reading bank issues of the magazine "Gendai Kyouiku" for three years before writing the story. He thought that if he, as an amateur farmer, could find a story interesting, readers would also find it interesting.
The realistic depiction of agricultural work is one of the main selling points of the story, but with the readers of the novel in mind, he also included a lot of outrageous gags and parodies. In addition, the story integrates text and illustrations, and uses illustrations effectively in the "end" of the story, introducing a new method of expression.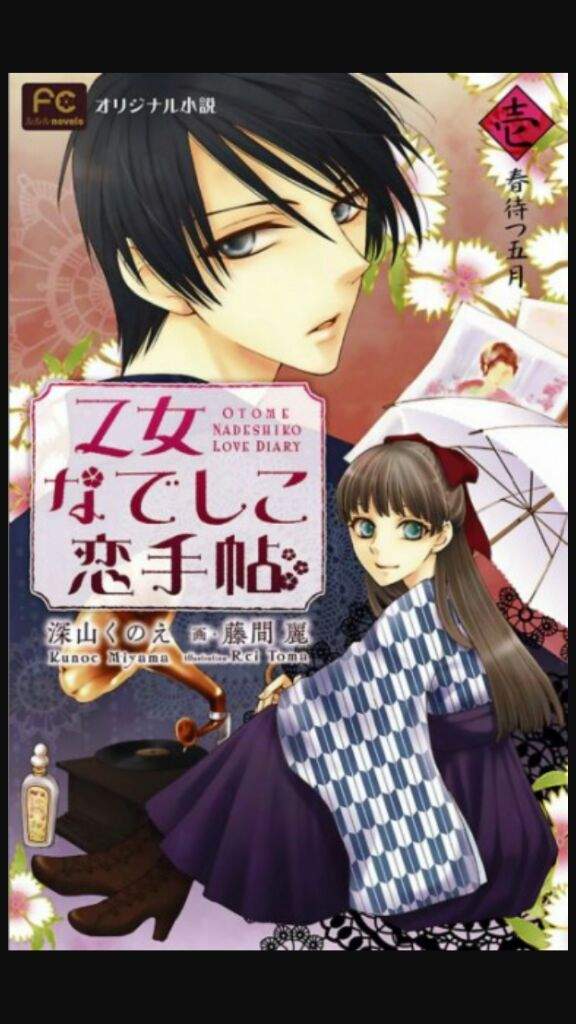 In November, "Otome Nadeshiko Koi Techo" [Otome Nadeshiko Love Diary] by Kunoe Fukayama was published by Lulu Bunko.
It was the first novel for girls to be released in a special edition with an anime DVD, and the short anime was included in the second volume released on January 26, 2012.
It is a love story set in the Taisho era (1912-1926), where people are at the mercy of the traditions around them.
Media Works Bunko's first million-seller
The first million-selling book in the Media Works Collection, "Biblia Koshodo no Jiken Techo" by Nobu Miami was published by Media Works Bunko.
It is a light mystery novel in which Shioriko, the young and beautiful owner of "Biblia Koshodo", has an extraordinary knowledge about old books, but is shy and cannot talk to strangers, and solves mysteries related to old books brought in by customers. The main character is a 23-year-old man, in line with the target audience of readers in their 20s or older, and the story is set in North Kamakura, Kanagawa Prefecture, in August 2010, with the names of real places appearing.
The story was nominated for the 2012 Bookstore Award, and as of June 2012, when the third volume was released, the total number of copies sold exceeded 3 million.
Media Works Bunko is a label for people who have graduated from light novels, and this is the first example of ASCII Media Works' (Kadokawa Group) strategy to attract light otaku in their 20s and above becoming a hit.
Trends in the animation industry
The late-night anime "Puella Magi Madoka Magica" aired.
It became an exceptionally big hit and was regarded as a masterpiece second only to "Evangelion".
An anime for adults that used the preconceived notions of magical girls to present an unpredictable and serious storyline. It is not something that girls would watch.
It was created with the aim of spreading secondary works and becoming a topic of conversation on the Internet, and it incorporates a structure such as a time loop in the story. The loop structure was also used in the "Evangelion" series that started in 2007.
A novel version of the story was published by Nitroplus Books in the same year.
Influential historical background
The Great East Japan Earthquake struck on March 11, 2011, a disaster of unprecedented scale.
Paper mills were damaged and the publishing industry was plagued by paper shortages.
In addition, the Fukushima Daiichi Nuclear Power Plant caused an accident, leading to problems such as radioactive contamination of crops and power shortages.
Year 2012
Representative Works
In April, Yu Enomiya's "No Game, No Life" was published by Dengeki Bunko. It is a hit work that has sold over 1.35 million copies.
A brother and sister who are social misfits and game junkies are summoned by God as saviors of another world.
It was made into an anime in April 2014. The author is also a manga artist and illustrator, and is famous not only for his novels but also for his illustrations.
Launch of a label
The first issue of "Sakuranomori Bunko" was published by Ichinozumi Shobo on January 5.
On January 16, Sogeisha launched "Sogeisha Clear Bunko". On January 16, Sogeisha launched "Sogeisha Clear Bunko," releasing two books on the 15th of each month.
At the same time, "Sogeisha Clear Bunko Newcomer Award" and "Sogeisha Clear Bunko Illustration Award" are launched.
On September 28, Shufunotomo launched Hero Bunko, a label aimed at light novel fans in their teens and twenties.
At the same time, the company began accepting applications for its light novel newcomer award, the "Ranobe-shibunaro ni Narou Award.
With the catchphrase, "Is this the easiest newcomer award to become a romance author?" This is a tie-up with "Shosetsuka ni Narou," the largest novel submission site on the Internet.
Submissions can be made by e-mail using the application form on the official website. A feature of the contest is that it comes with an evaluation sheet.
Trends in the publishing industry
Bookstores in the city began closing closing one after another.
The closing of Junkudo Shinjuku, a large bookstore in Shinjuku, Tokyo, in March was symbolic.
The number of bookstores nationwide on May 1 was 14,696. That's 365 bookstores down from 15,061 in the same month last year, or one store per day.
This can be attributed to the presence of powerful rivals: manga cafes, new types of used bookstores such as Bookoff, online bookstores such as Amazon, and the rise of e-books.
On October 25, Amazon launched the Japanese version of Kindle Direct Publishing, which allows self-publishing on the Kindle e-book reader. The service allows users to sell their e-books to Kindle stores around the world and receive 35-70% of the sales as royalties (depending on the conditions). The service is attracting attention as a way to lower the threshold for self-publishing.
Newcomer's Award
Shueisha Cobalt Library's Romance Award and Novel Award are now accepting online submissions as well as paper submissions. This is a system where submissions are completed by sending the required information and text data from the official website.
The GA Bunko Grand Prix, which started in February 2008, does not require printed out manuscripts, and has been accepting submissions on recorded media containing text data, but this is the first time it has accepted submissions online. This was the first time that submissions were accepted online.
In the same year, Fujimi Shobo's Fantasia Award also stopped accepting paper submissions and switched to online submissions. In the same year, Fujimihobo's Fantasia Award also stopped accepting paper manuscript submissions and switched to online submissions, a system in which submissions are completed by registering as a member on the official website and sending text data.
Fujimi Shobo's Light Novel-Bungei section became independent from the Fantasia Award, and the Light Novel-Bungei Award was launched. It is said that the reason for this is that there were many entries in the Light Novel Bungei Section.
The point of the works being accepted is that after reading a book, "you can like the characters in it."
The revival of TRPG replay novels
In January 2012, a replay of the TRPG "Red Dragon" was released on the Seikaisha website. There are five players: Kinoko Nasu, Gen Urobuchi, Izuki Kohdama, Doriru Shimadori, and Ryogo Narita.
The story takes place in a world where two major powers are in a cold war. Nil Kamui, an island nation between the two countries, is the setting for this work. There are seven dragons in the world that is in a state of antagonism, and one of them, the "Red Dragon," exists in Nil Kamui. The "Red Dragon" has suddenly gone insane for unknown reasons, and has become a threat to destroy multiple villages. Players will gather together as an unofficial force to defeat the "Red Dragon".
2013/02/05 by Tsuki Saeyu
An anime script project by a group of novelists
From October to December 2012, the original anime "K", written by the mysterious masked writer's group "Gora," was broadcasted.
Set in Japan in the year 201X, this is a mystery and action-packed story that revolves around seven "kingship" xenophobes.
A prequel manga and novel to the anime were serialized and published, and a sequel was announced right after the last episode.
The identity of the masked writer was also revealed just before the broadcast.
Titles in parentheses indicate representative works [from 2012.]
1.Hideyuki Furuhashi (Black Rod)
2. Suzuki Suzu (Vampire's work)
3.Rairaku Rei (Chimera of Sorrow)
4.Kohei Azano (BLACKBLOODBROTHERS)
5.Yashichiro Takahashi (Shakugan no Shana)
6.Yukako KABUI (KIRI)
7. Tatsuo Miyazawa (Thou shalt not speak of monsters)
2013/02/05 by Tsuki Saeyu
Year 2013
Launch of a label
On February 26th, Ringo Promotion launched "Freedom Novel".
"Mons☆Panic", a light novel from Korea, will be published for the first time in Japan on May 24.
In Korea, the popularity of light novels is growing very rapidly, and this has led to the situation of reimportation of novels.
On April 25, Overwrap Inc. launched the "Overwrap Bunko". The catchphrase is "Sekai is still interesting. An entertainment novel that rebuilds your daily life." The latest edition (volume 8) of Yugen Izuru's popular "IS (Infinite Stratos)", previously published by MF Bunko J, has been transferred and released.
The Overlap Bunko Kickoff Award, a newcomer's award for novels that closes on March 31, was also held the previous year.
On August 23, Media Factory (MF Bunko J), in collaboration with Frontier Works, launched MF Books, an entertainment novel label for men in their 30s and 40s.
The character novels target adult males who grew up familiar with games, anime, manga, and light novels, but have become detached from such content after entering the workforce. Three books were published on the same day, including "The Rising of the Shield Hero," which recorded a cumulative PV of 51.7 million on the novel submission site "Shosetsuka ni Narou."
Newcomer Awards
The first Overlap Bunko Grand Prize is held. The first Overlap Bunko Grand Prize was held, and the high prize money of 3 million yen caught the eye.
The application method is to register as a member of the website "Overlap Bunko Prize ONLINE" and submit text data from My Page. Paper submissions were not accepted.
E-book Newcomer Award
In November, e-book publisher Impress Quickbooks, in collaboration with Livedoor Blog, held the "Light Lover's Book Contest" from November 6 to January 31, 2014.
This is the first attempt to use blogs as an entry for the Newcomer of the Year award for novels. It is also the first attempt to use blogs to enter a newcomer's award for e-books.
Using the Livedoor Blog, a new blog was set up for the novel presentation. After that, set the blog's category to "Light Novel Contest" and complete a novel of 30,000 words or less by January 31, 2014.
2014
Newcomer's Award
Shueisha's Super Dash Bunko held the first Shueisha Light Novel Newcomer's Award, accepting full-length novels with an intended audience of males in their mid-teens to twenties, with a deadline of April 25.
The grand prize is a hefty 3 million yen, web submissions are accepted, the award is held twice a year, and all finalists are guaranteed publication in e-book format. In addition to the rise of e-books and the generalization of web-based submissions, it is believed that the aim of the contest was to attract a large number of submissions in order to break the monopoly of the Dengeki Novel Award (6,554 submissions in the previous year's 20th contest).
Papyrus, a company that operates an e-book platform, has announced the "1st upppi Light Novel Contest – From Office Love to Otherworldly Trip!" The submission period is May 2014. The application period is from 10:00 a.m. on May 28, 2014 to 10:00 a.m. on July 16, 2014. Works submitted to the e-book submission and editing platform "upppi" can be viewed by anyone, and during the contest period, the works can be revised based on readers' opinions. During the contest period, authors can revise their works based on readers' opinions, etc. Authors are also allowed to add their own covers and illustrations, and multiple authors are allowed to collaborate on a novel. The grand prize money is 100,000 yen. The grand prize is 100,000 yen, and the selected works will be distributed as e-books.
From January 8, Enterbrain, which owns Famitsu Bunko, and the web service Pixiv will collaborate to hold the "Next Generation Vocaloid Novel Contest." The best works will be published as a Vocaloid novel anthology short story collection from "Beeslog Bunko", "Famitsu Bunko" and "KCG Bunko".
Tokyo's "Youth Development Ordinance" regulates light novels for the first time
In May, the comic book "Sister Paradise! 2" released by KADOKAWA, which owns a major light novel label, was designated as an unhealthy book based on the new standards of the Tokyo Metropolitan Youth Development Ordinance that came into effect in 2011. It was a cartoon version of the 18-only game, and the content that praised incest violated the ordinance. KADOKAWA voluntarily recalled this work, and sales were stopped on Amazon.
This was the first time that a book has been designated as an unsound book under the revised metropolitan ordinance.
Film adaptation of a light novel
On June 6, the science fiction film "Edge of Tomorrow" directed by Doug Liman was announced. It is based on the light novel "All You Need Is Kill" by Hiroshi Sakurazaka (published on December 18, 2004). The main character is a soldier who fights against aliens, and when he is killed, he is sent back in time to the morning of the day before his mission and comes back to life.
The characters and story have been changed to suit American tastes, for example, a beautiful tsundere girl has been replaced by a macho female soldier. Japanese people are pedophiles, while Americans prefer glamorous and macho characters.
Management integration of Kadokawa and Dwango
May 14, 2011. The Kadokawa Group, which controls the light novel industry, will announce a management integration with Dwango, an IT-related company known for Nico Nico Douga, etc. The joint holding company, KADOKAWA-DWANGO Inc. will be established on October 1.
The launch of a label
In July, Futabasha launched "Monster Bunko".
In August, Shinchosha launched "Shincho Bunko nex", which according to the official announcement is not a light novel label, but since it uses a light novel author and is a character-based novel, it is considered to be a border label between general martial arts and light novels.
On November 21, Shueisha launched "Dash X Bunko". On November 21, Shueisha launched "Dash-X Bunko," to which popular Super Dash Bunko titles such as "Red" and "Rokka no Yusha" were transferred. Also, a side story of "Terraformers," which was popular in the manga magazine Young Jump, was published as a novel.
Trends in the Manga Industry
On September 22, Shueisha launched Shonen Jump +, a webcomic distribution site and manga magazine application for smartphones and tablet devices. Shueisha's manga, including Weekly Shonen Jump, will be distributed as e-books for free, averaging about five titles per day. The purpose of the launch was to find digital talent, with an emphasis on discovering and nurturing newcomers. The company hopes to attract Internet users who are less interested in print media as new readers.
It has become a hot topic of discussion as the largest company in the manga industry was one of the first to start distributing free manga in e-book format.
2015
Launch of the label
On January 20th, Shueisha launched Orange Bunko. This is a label for women that deals with various genres such as horror, science fiction, and love romance, with a focus on light mysteries. The style is somewhere between general literature and light novels, which is why it is called the "light literature" genre. Misako Tega, the editor-in-chief of Orange Bunko, says that the definition of light literature is "characters that are attractive" and "characters that stand out."
[End of the Original Document]